ISO 20000 – Information technology — Service management

DAS is the representative of SMG Inc Canada under an agency agreement to provide 3rd party certification services for multiple standards as per below mentioned Schedule of Accreditation, SMG is holding Accreditation form International Accreditations Services -IAS USA and IAS is the member of International Accreditation Forum (IAF)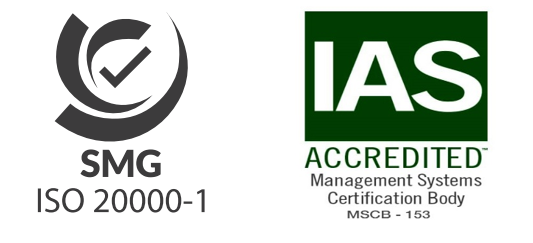 ISO 20000- IT is essential to delivering today business. However, concerns are increasingly being raised about IT services, both internal and outsourced, not aligning with the needs of businesses and customers.
A recognized solution to this problem is to use an IT Service Management System (ITSMS) based on ISO/IEC 20000, the international standard for IT service management. Certification to this standard enables you to independently demonstrate to your customers that you meet best practice.
ISO/IEC 20000 is based on and replaces BS 15000, the internationally recognized British Standard.
ISO/IEC 20000 is published in two parts:
Part One is the specification for service management which covers the IT service management. It is this part which you can be audited against and it sets out minimum requirements that must be achieved in order to gain certification.
Part Two is the code of practice for service management, which describes the best practices for service management processes within the scope of the specification.